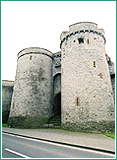 We leave your accommodation and make the journey to King John's Castle. The castle was completed in 1210 and has been repaired and rebuilt many times down through the years. The guided tour details the history of the castle and earlier excavation of Viking house sites. The reconstructed courtyard features a display of 16th century trades and traditions with a visitor theatre and audio visual display.

Leaving King John's Castle we pass the Treaty Stone and drive by the banks of the River Shannon before heading into the countryside on the N21 via Adare to Ballingarry, where we visit The Mustard Seed at Echo Lodge, Country House and Restaurant to enjoy morning coffee. We continue our tour to Moanwing Gardens nestling in the countryside outside Rathkeale and featuring plant displays from all over the world.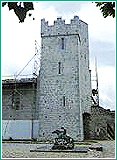 Today's lunch stop is at Newcastle West, the largest town in County Limerick. In Newcastle West we have time to have lunch, do some shopping and visit Desmond Hall, the banqueting hall once part of the Desmond Castle.

Leaving Newcastle West we pass through Ardagh, famous for the 8th century Ardagh Chalice, unearthed in 1868 in a potato field.

We also pass through Shanagolden with a brief photo stop at Shanid Castle before arriving at our next destination, the medieval town of Askeaton.

With our local guide we explore the Castle ruins located on an island in the River Deel. Next to the Castle are the ruins of the infamous Hell Fire Club of the 17th Century and further downstream is the 14th century Franciscan Friary built by Gearóid Iarla, 4th Earl of Desmond.

Our final stop is Kilcornan where we visit the Celtic Theme Park and Gardens which feature some of the built heritage of ancient Ireland. The classic style garden affords visitors a panoramic view of the surrounding countryside. The tour concludes at the Merchant's Quay Coach Park at 18.00 or at your accommodation.
Tour Fee does not include - Entry fee to King John's castle - Entry fee to Celtic Theme Park