We depart from your accommodation and drive to St. Mary's Cathedral, King John's Castle and the Treaty Stone, travel along by the banks of the Shannon to join the N69. Following the N69 along the Shannon Estuary our first stop is the Franciscan Friary at Askeaton. With our local guide we visit the friary and the nearby Desmond Castle.
Continuing along the N69 we visit the port of Foynes. Foynes nowadays is a busy container port but from 1939 to 1945 trans-atlantic air traffic between Europe and North America centered on Foynes. Here we call to the Flying Boat Museum which features the entire radio room from the original flying boat terminal along with many memorabilia of the flying boat era. The first Irish Coffee was served at Foynes in 1943. A flight was forced to return to Foynes due to bad weather and Chef Joe Sheridan added a little whiskey and cream to the coffee he gave to freezing passengers and the Irish Coffee was born.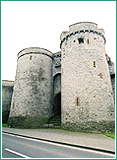 We continue on the N69 through Glin and Tarbert to take the car ferry across the Shannon Estuary to Killimer. The crossing takes 30 minutes and gives us a chance to stroll on deck and take in the sea air.

Arriving in Killimer we take the N67 through the market town of Kilrush to the popular seaside town of Kilkee, we have lunch in Kilkee and passengers not taking the optional Dolphin Watch boat trip have additional time for shopping and sightseeing or a walk along the strand.

Carrigaholt, 11km from Kilkee is the departure point for Dolphin Watch. The boat trip takes about 2 hours.
Leaving Carrigaholt we return to Kilkee and continue on to Ennis, the largest town in County Clare. We take a break in Ennis to ramble through the narrow streets and search for bargains at the street market or enjoy a coffee at a pavement café and watch the world go by.
We complete our tour with the journey along the N18 to the coach park in Limerick arriving at 18.00.