Our Tour begins at your accommodation and we then start with a guided visit to St. Mary's Cathedral. St. Mary's, built in 1168 is the oldest building in Limerick which is in daily use. We cross the city, passing by King John's Castle and the Treaty Stone crossing the River Shannon to take the N69 to Askeaton.

With local guide we explore the Castle ruins on an island in the River Deel. Next to the Castle are the ruins of the infamous 18th Century Hell Fire Club and further downstream we visit the Franciscan Friary.

Leaving Askeaton we travel through Rathkeale to the picturesque village of Adare for our Lunch Stop. Here you also have time to visit the Heritage Centre, do some shopping, visit Adare Castle (which is currently being restored) or any of the other attractions.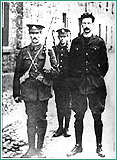 En route to the historic town of Kilmallock we have a brief stop in the scenic village of Bruree, here we see the De Valera Museum located in the school that Eamonn De Valera attended as a boy. We also visit De Valera's Cottage where he lived during his schooldays.

Kilmallock was fortified by stone walls and four gate towers in medieval times. The town was destroyed in 1690 and today two gate towers and portions of the old walls remain. We drive through Blossom Gate before visiting the ecclesiastical remains of the 13th century Dominican Priory and the Collegiate Church of St. Peter & Paul.

Heading north through the town of Bruff we pass the last Irish residence of Thomas Fitzgerald, great grandfather of JFK.
We visit the world famous archeological site at Lough Gur, where settlement dates back 5000 years. Over 30 ancient sites and monuments can be identified in the immediate vicinity of the lake consisting of megalithic tombs, stone circles, hut sites, ancient fields and roads, standing stones, caves and castles. The people who settled here were Ireland's first farmers. The Interpretative Centre is located in two linked buildings which are modeled on huts excavated in the 1930's and 1940's.
Leaving Lough Gur we travel on to Limerick where our tour finishes at the coach park at 18.00